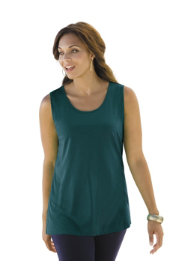 Look out ladies. It's time for plus size summer style. Warm weather is here … the time of year that a lot of curvy women hate. No more hiding behind baggy clothing. This is the season of bareness – bare necks, bare legs and, the scariest of all, bare arms. But don't panic. Here are a few tips to build your summer style (and stay cool!) without spending a lot of money.
Plus Size Summer Style Tips
Here are a few thoughts to get you through any summer style fashion crisis you may be feeling:
Buy a new white tee and white pants. Even if you decided not to buy any new summer clothes, the ketchup and mustard stains in last year's white tee and pants will never come out. Just toss 'em. You don't need to spend a lot to replace them. Check out JustMySize, Target, Woman Within and JCPenneys for great prices.
Simplify. Remove from your closet all the clothes and shoes that you don't (or can't!) wear. Give them to the local women's shelter. Stop squeezing your fluffy arms into those skinny sleeves! Also, only keep what you really love to wear – give away anything you didn't wear at least 20 times last year.
Give up trying to dress to look thinner. Instead, concentrate on feeling great, showing your individual style and staying cool … even if it means sleeveless tops and dresses!
Buy basics. If you are going to buy this season, spend most of your money on basic colors and styles. Then you can splurge on one or two trendy styles and colors. Look to JustMySize, Junonia and Ulla Popken for 100% cotton and rayon shirts, twill skirts and pants.
Jump into summer with joy. Buy yourself a girlie-girl treat. Get a haircut. Buy a new pink lipstick. Get a pedicure. Buy a fun sun hat. Learn to ride a bike. Take your kids (or grandkids!) to a theme park or to the pool or shore.
Enjoy this great new season. Get out there with your family and friends. Remember: Your personal style is what you do and how you do it — not just what you wear.
Need more info on plus size clothing? Check out GrandStyle's recent plus size clothing posts.