When the thermometer hits the 80s, 90s and 100s of summer, we face the summer plus size dressing "Cover Up Question" … What's the least I can wear to stay cool and still be covered up?
10 Tips for Summer Plus Size Dressing
Before you punish yourself with another "overdressed" summer, let's consider a few thoughts of how to dress cool and not be self-conscious when leaving the house!
1. No matter how soft and fluffy our bodies are, we all have body parts that look terrific. If you've been busy concentrating on your challenges, you may have ignored your assets! Your job is to figure out where those assets are … and consider getting them uncovered; because, the less we cover, the cooler we will be.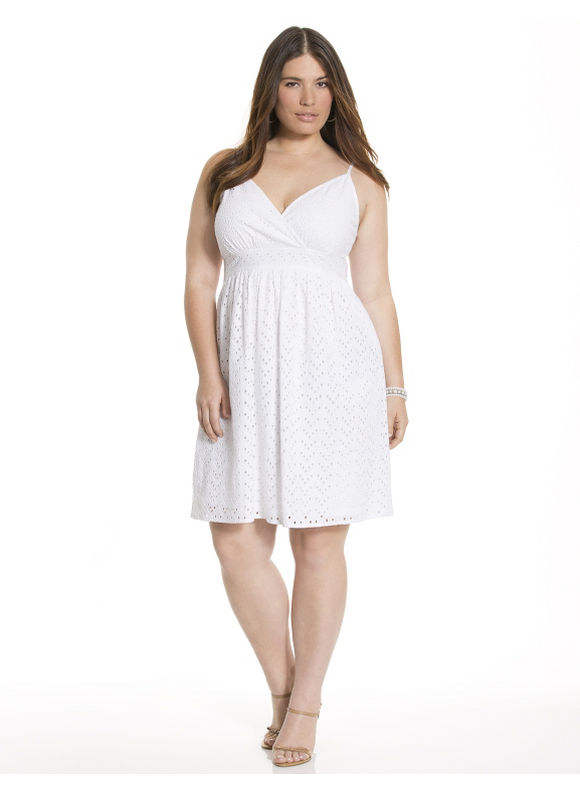 For example, some of us soft, voluptuous ladies have:
Great boobs or nice necks that would look terrific in a new wider neck top.
Great shoulders or a great back and can wear a strapless or halter style (with a shawl if our arms are keeping you from leaving the front door!).
Great legs which are crying out for a shorter, flippy skirt.
Beautiful hands or beautiful feet and should be wearing sandals.
Check out the summer sales and add a few items to enhance your summer wardrobe.
2. You don't have to be a size 8 woman to go out with bare arms and legs, shorts or long loose skirts. Wear them around home for a few days to get comfortable. Still too self-conscious? Then, wear a cotton shawl or shrug, wear your shorts a little looser and a little longer. Remember: You won't look thinner if you cover up–you'll just look hot!
3. Make friends with cotton gauze fabric. There is nothing like loose-fitting cotton gauze to keep you cool. Breezy gauze big shirts cover up big arms and tummies. Knee-length gauze shorts drape over our voluptuous thighs. Floaty dresses are just the ticket when you are looking for quick, easy dressing.
4. Avoid synthetics for summer plus size clothes. Our wonderful big hot bodies get even hotter in polyester. It's like wrapping us in plastic wrap. Instead, look for cotton, linen, rayon and silk fabrics. Do yourself a favor and donate any polyester clothes from your closet.
5. Avoid layers. Layers are great in the winter because they provide warming insulation. But in the hot weather they can easily add 10 degrees to our misery. Avoiding layers doesn't mean we can't wear two garments at once. It means that if you wear layers, only wear one set of sleeves – such as a sleeveless tank under a big shirt or a sleeveless blouse under a jacket with sleeves.
6. Avoid the sausage look. If you can't stick your hand between the garment and your skin, the garment is TOO TIGHT! Too tight garments never look good; but, in the summer they are also down right uncomfortable. Drop off that garment at the thrift shop for a woman who will look terrific in it!
And, don't forget to wear bigger shoes. Nothing will make you feel hotter than shoes or sandals that are too tight on your hot, swollen feet. Try a wider width for summer or look for ties, bands and straps which you can adjust during the day as your feet start to swell.
7. Put away the heavy blue jeans until fall. Try a pair of the new mid-calf length cotton pants. They are a great alternative to shorts or long pants. Sources: JustMySize
, Catherines
and Ulla Popken.
8. Don't give up on a swimsuit. This is no time to avoid the fun times at the pool or the shore with your kids or grandkids just because you won't wear a swimsuit. Take a tip from our big Tahitian sisters and wear a comfortable swimsuit cover-up such as a pareo – a big square of cloth – around your hips. Sources for swimwear: JustMySize
, Avenue
and SwimsuitsforAll
.
9. Summer-size your jewelry. Put away the big heavy pins and necklaces that drag you down in the heat. Instead, wear lighter weight jewelry. Do you just love a certain pendant; but, the chain is too heavy for soft summer fabrics? Consider stringing the pendant on a silk cord from your fabric store.
10. Sandals are not a license for untended feet. Ladies … ladies … ladies. Get (or give yourself) a pedicure before you show America your feet. Just because the thermometer reads 90 degrees you don't need to throw on your flip flops and share your rough heals, long toenails and hairy toes with all of us. Use a little cream, a pumice stone after the shower, a nail clipper followed by an emery board and a little sassy toe nail polish.
Can't bend long enough to reach 'em? Then sit on the edge of bed, pull one leg up as you turn in that direction, lay your bent leg down on the bed and work on one foot at a time. That's all it takes to keep the sandal police away from your door!